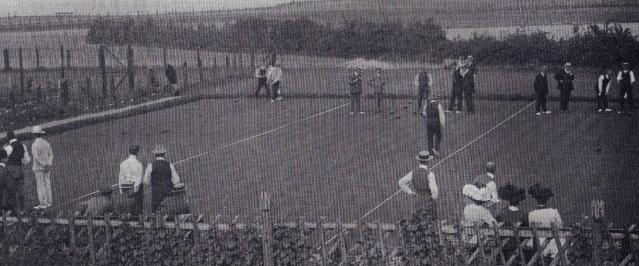 The Watchet Bowling Club celebrated its centenary in 2011, having been formed in 1911, with the help of the Conservative Club, and played on a green near the Memorial Ground under what is now the hard court of the tennis club. Only one match was played in 1911 to open the green in the September (three rinks against Taunton Vivary, which Watchet won 66 to 57) and the following year was the first full season, by which time a pavilion had been built. It is now the tennis club building. Matches played in the early period were local engagements as travelling was difficult.
One member of that time remembers all the members cycling and walking to Huish Barton for peat and manure collected in sacks and brought back and sieved for the green.
During the depression years, one player, who was out of work, was paid 6d a week from each of the other players for weeding the green, which at that time had only four rinks. Round about the 1930's the owner was asked to enlarge the green to full size, which he declined to do.
So members looked for a site for a new green, which they found off Doniford Road in a field being used for hayricks, which also had cow sheds and a well in one corner.
During the changeover period from one green to the other, members spent their free time sieving the soil and levelling the surface. The fees were then a guinea a season and membership stood at 150. The new green was opened in 1933, but again funds were scarce, the AGM minutes for 1933 reports a credit of £3 12s.